Blue Wings Academy is one among the top-most aviation academies in Cochin, Kerala offering impeccable launch into Aviation career with world-class training.Aspiring Candidates who want to pursue career in aviation from various locations are trained and placed with the highest-paying Sky conquering airlines in India and abroad.
Grab your one-time opportunity to launch your career in the skies with Bluewings Academy who offer a plentiful opportunity to any ambitious candidates who has a passion to fly.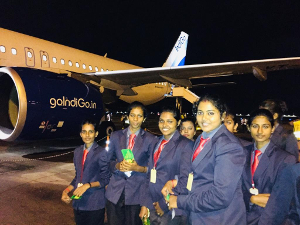 We are well equipped to provide mock training to live training sessions in this multi-disciplinary course providing institute authorised under government accreditations. On completion of the course, the students are provided with the course certificate of excellence. We focus on providing equal opportunities without gender-bias. We also ensure that our curriculum focus on imparting knowledge based on the rapidly growing industry.
Our training also includes Cabin crew, Airport Management, Ground handling, Air Hostess and Hospitality Management. To bring out the best in every candidate to delight the customer everywhere in the journey, we train the candidates the effective balance between customer satisfaction and public responsibility.